You can join in on all things Latino health and get some brainstorming nuggets from Stephanie every Tuesday 1pm EST on the tweet chat #SaludTues! What is #SaludTues? From http://www.communitycommons.org/salud-america/tweetchat/:
"#SaludTues is a weekly Tweetchat about Latino health at 12p CST/1p EDT every Tuesday. The chat is directed and co-hosted by @SaludToday, the Latino health social media campaign and Twitter handle for the team at the Institute for Health Promotion Research (IHPR) at The UT Health Science Center at San Antonio, which directs Salud America!. Each chat has two co-hosts from partner organizations to ask and answer topical questions."
For more information, visit Salud America!
Don't miss the 4/12 chat where Stephanie will be co-hosting on the topic"How to Alter Health Messaging to Promote Prevention for Latinos"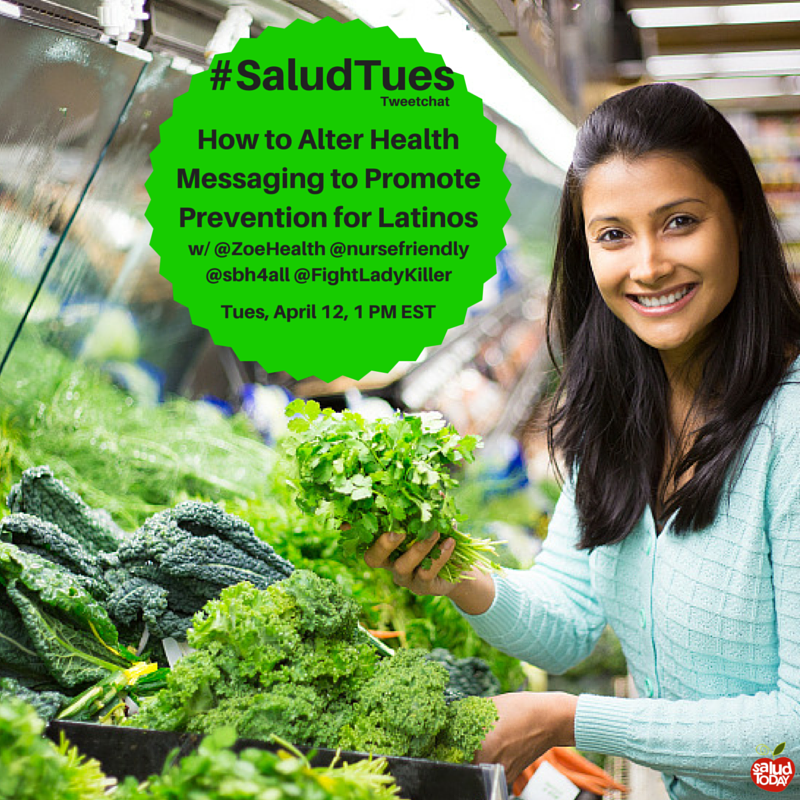 #SaludTues Tweetchat 1p ET 4/12/16: "How to Alter Health Messaging to Promote Prevention for Latinos"
"Health messaging is a critical way to empower health equity. But without relevant, culturally competent health messages, Latinos will continue to face vast health disparities in diabetes, heart disease, and certain cancers, especially in the face of conflicting unhealthy marketing by the food and beverage industry.
Let's use #SaludTues on April 12, 2016, during National Minority Health Month, to tweet about how healthcare professionals, public health professionals, city leaders, businesses, schools, and you can alter language and images in their health messaging to promote health for Latinos.
WHAT: #SaludTues Tweetchat: "How to Alter Health Messaging to Promote Prevention for Latinos"
TIME/DATE: 1-2 p.m. EST Tuesday, April 12, 2016
WHERE: On Twitter with hashtag #SaludTues
HOST: @SaludToday
CO-HOSTS: Stephanie Pitsirilos, MPH (@ZoeHealth); Andrew Lopez, RN (@nursefriendly); School-Based Health (@sbh4all); and Fight Ladykiller (@FightLadykiller)
Optional Hashtags for Minority Health Month: #NMHM16, #healthequity
We'll open the floor to your experiences and stories as we explore:
The importance of health promotion and disease prevention to improve Latino health.
Culturally relevant health messages for Latinos to promote healthful behaviors.
Avenues and methods to deliver healthy messages to Latinos.
Be sure to use the hashtag #SaludTues to follow the conversation on Twitter and share your strategies, stories, and resources for generating powerful, culturally relevant messages for Latino health promotion
.#SaludTues is a weekly Tweetchat about Latino health at 12p CST/1p ET every Tuesday and hosted by @SaludToday, the Latino health social media campaign for the team at the Institute for Health Promotion Research (IHPR) at The University of Texas Health Science Center at San Antonio."