Zoe Health is a public health consultancy and hub for artists, health professionals and community members for networking and delivering projects for clients with health campaigns, websites and publications or those in need of solutions to institutional challenges. You see a marriage of health services and creative works on the site because we approach projects with this bent.
Some great institutions have benefited from our services, including: NewYork-Presbyterian Hospital, TEDMED and Dichter Pharmacy (Dichter has received press from WNYC, New York Magazine, The Daily News, The New York Times, and The Wall Street Journal).
About Stephanie (Founder and Owner)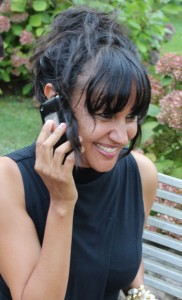 Stephanie Pitsirilos-Boquín, MPH is founder of Zoe Health, LLC. She's a public health crusader and writer.
With fifteen years experience in the field of public health, Stephanie thinks out of the medical box when promoting health, finding innovative ways to partner with multiple sectors of society to address complex public health issues. She's been a TEDMED Great Challenge Panelist and Moderator, applying her expertise in promoting healthy lifestyles on a global discussion forum. As a former Program Manager and later consultant, she helped to create and lead NewYork-Presbyterian Hospital/Columbia University Medical Center's childhood obesity prevention and healthy lifestyles program CHALK (Choosing Healthy & Active Lifestyles for Kids) and the community-driven social marketing campaign "Vive tu Vida/Live your Life", which recently received the prestigious Spencer Foreman Award for Outstanding Community Service. Her work has brought active lifestyle resources to Northern Manhattan and Pennsylvania, including NYC's highest grossing hospital based farmers' market, bike racks outside of ambulatory care clinics, a successful "Take the Stairs" campaign, fitness and family based after-school programs, and a healthy lifestyles marketing campaign. In this role, she has published various health education and marketing materials and guidelines for the institution. Her community model for retail outreach has recently been adopted by the Partnership for a Healthier New York City for its Manhattan work on healthy food promotion in supermarkets with Mt. Sinai Hospital. She offers the same content and design element to her work with Zoe Health.
Stephanie holds a master's degree in Public Health in Population and Family Health  (Columbia University) and a bachelor's degree in International Health (University of Michigan). Her work has been recognized by the National Association of Children's Hospitals and Related Institutions (NACHRI), The Asociación de Mujeres Progresistas, the BBC, The Uptown Collective, and the Let's Move Campaign of First Lady Michelle Obama.
Writer's Hat
Stephanie applies her active imagination and storytelling skills to writing, particularly adult literary fiction. She's benefited from classes and mentorships with Columbia University's Creative Writing Program. She's a 2015 Kore Press Short Fiction Award Semifinalist. Her creative non-fiction work is featured in Salud America!. She's represented by Adrienne Rosado of Stonesong Literary Agency. See more of Stephanie's work in the Essays & Fiction section.
How we handle projects
Stephanie utilizes a team of public health, medical and art professionals to deliver services, depending on project and client needs.

Zoe Health, LLC is a proud campaign participant of the "Vive tu Vida/Live your Life" Campaign.